Liquid Pro Detox Liver Cleanse - Kidney & Liver Repair, Vegan Superfood with Antioxidants
Regular price

£31.00

Sale price

£29.00
Introducing the Pro Detox Liquid Formula, designed to support a healthy colon and aid in liver health. Experience the transformative power of this comprehensive cleanse, which can contribute to your overall well-being.

The Pro Detox Liquid Formula offers a holistic approach to promoting a healthier lifestyle. By making positive changes in your diet, letting go of unhealthy habits, and incorporating physical activity, you can take charge of your health and well-being.

Our carefully crafted formula is designed to support a gentle cleanse and detoxification process for your body. It aims to assist in maintaining a healthy colon and promoting liver health. However, it's important to note that individual results may vary.

Embrace the opportunity to make a positive difference in your life with the Pro Detox Liquid Formula. While this product can help support your wellness journey, it's essential to remember that it is not a miracle solution or a substitute for professional medical advice.

Take the first step towards a healthier you with the Pro Detox Liquid Formula - a valuable addition to your wellness routine. Start your 20-day journey today and discover the potential benefits of promoting a healthier colon and supporting your liver health.
Food supplements should not be used as a substitute for a varied and balanced diet. Keep in a cool, dry and protected from sun light place. Keep out of reach of young children. Not recommended if you are pregnant, breastfeeding or under the age of 18. Advisable to consult your GP prior to take any dietary supplements. Discontinue use and consult GP, if adverse reaction occurs. Suitable for VEGAN & VEGETARIAN
Our No-no's
Benefits
Key Ingredients

Green Tea - For thousands of years, people in China and Japan have consumed green tea for its soothing flavour and therapeutic benefits. Soured from France is known for improving mental alertness, relieving digestive symptoms and headaches, and promoting weight loss.

Dandelion Root - This naturally powerful antioxidant is known to help moderate blood sugar levels and to improve insulin tolerance too. Say farewell to toxins as you get into the habit of sipping dandelion daily. This ancient healing brew may help to cleanse and maintain correct liver health.

Chicory Root - Chicory is one of the top sources of inulin, a fibre known for its prebiotic properties know to help with better digestive health, anti-inflammation, immunity, and mood. Another digestive benefit chicory root offers is its ability to relieve constipation, without resulting in diarrhoea.

Artichoke Leaf - Beautiful green plants that are full of nutrients. Artichokes are a great source of fibre, which promotes bowel regularity and helps maintain weight—and are full of vitamins and antioxidants that support your cardiovascular and immune systems.

Full Ingredient List

Green Tea Leaf Extract 255 mg, Artichoke Leaf Extract 21mg, Cherry Stem 200mg, Cichorium Root 45mg, Dandelion Leaf 200mg, Meadowsweet extract 200mg, Green Mate 200mg, Birch Leaf 200mg, Ash Leaf 200mg, Vitamin C 90mg, Organic Pineapple Juice, Stevia, Water
How To Use

Take 1 single dose 10ml per day, during a meal preferably at breakfast. Shake it well before use. Drink straight from the shot or diluted in a glass of water or fruit juice. Drink at least one litter of water per day. Not recommended to take it on an empty stomach. Do not exceed recommended dose.

ADVICE: Food supplements must not be used as a substitute for a varied and balanced diet and a healthy lifestyle. If you are pregnant, breastfeeding, taking any medications, or are under medical supervision, please consult a doctor or healthcare professional before use. Discontinue use and consult a doctor if any adverse reactions occur. Not intended for use by persons under the age of 18.

Storage: Store in a cool, dry place. Keep out of reach of children. For best before end see the base.
FAQs

What is Pro Detox?

Pro Detox is vegan liquid super food, that supports the body's natural cleansing process, without harming your natural flora, detox drink for liver cleanse, weight loss, better digestion, and gut health.

What does Pro Detox do?

It supports better digestive function, including healthy bowel, liver, and kidney, but the benefits go further than that. By aiding digestion and clearing waste, our 20-day cleanse helps support healthy energy levels and even weight loss.

What are the benefits from taking Pro Detox?

 

✔ Supports Digestive Health

✔ Supports Weight Loss

✔ Supports Energy Levels

✔ Easy to Take and Effective

✔ Advanced Cleansing Formula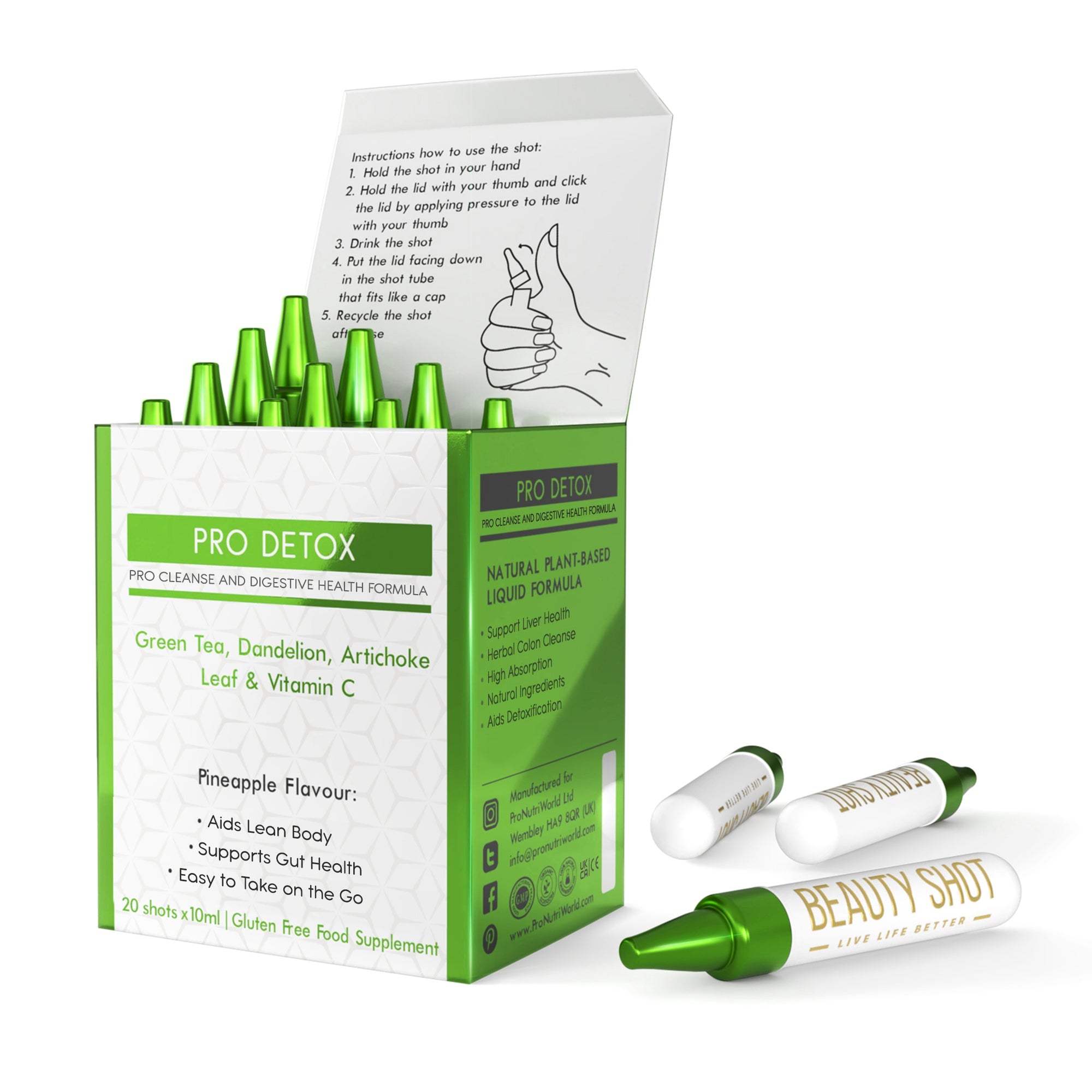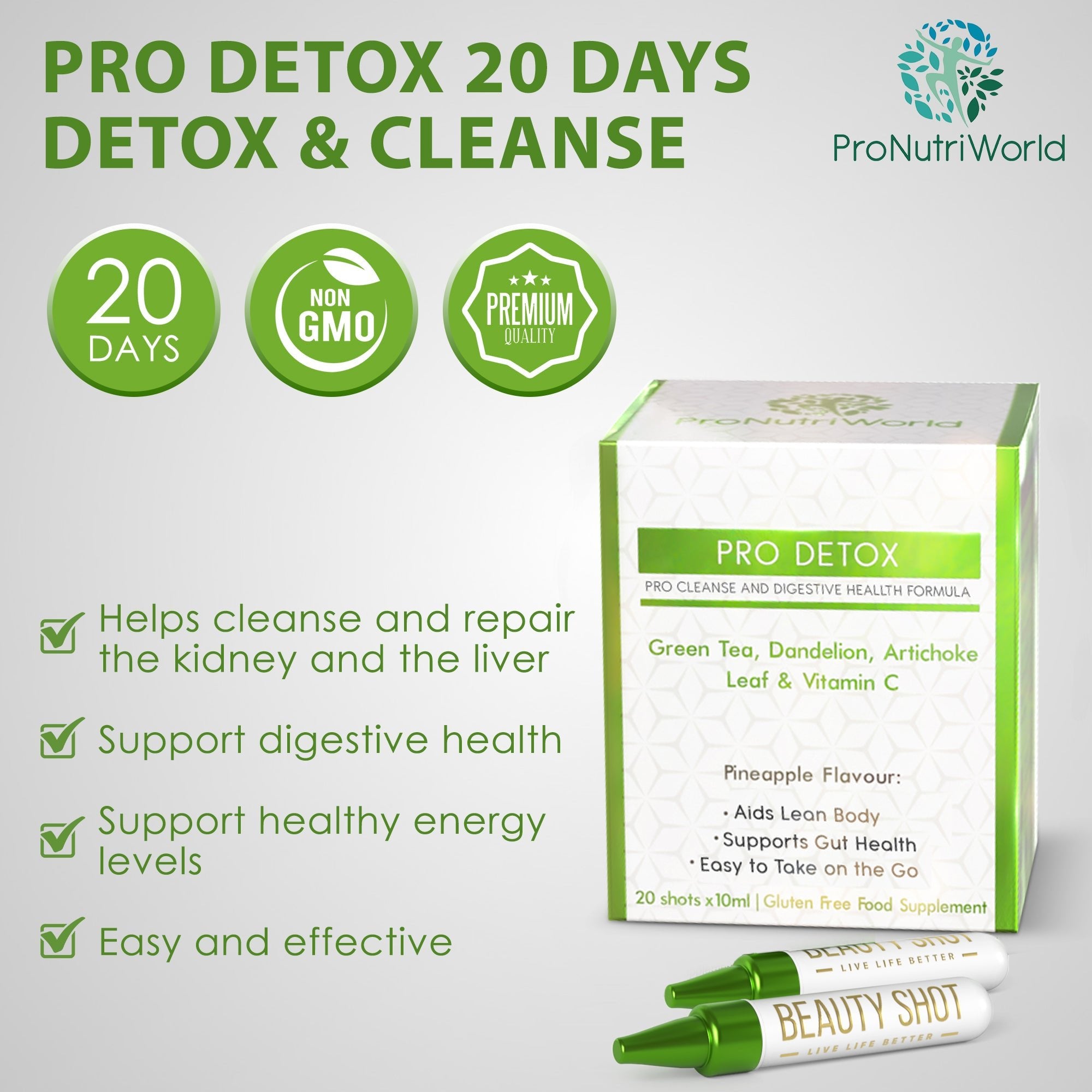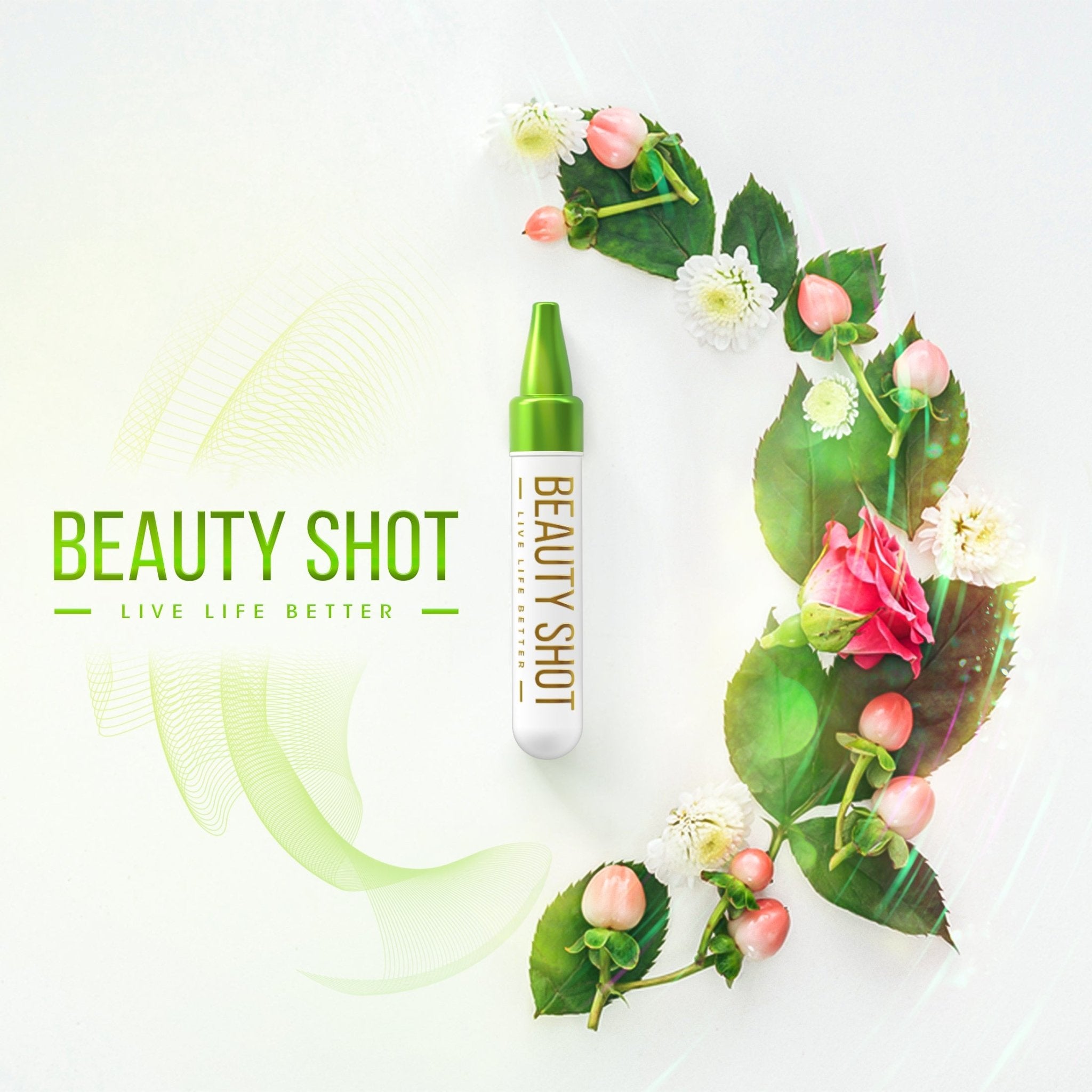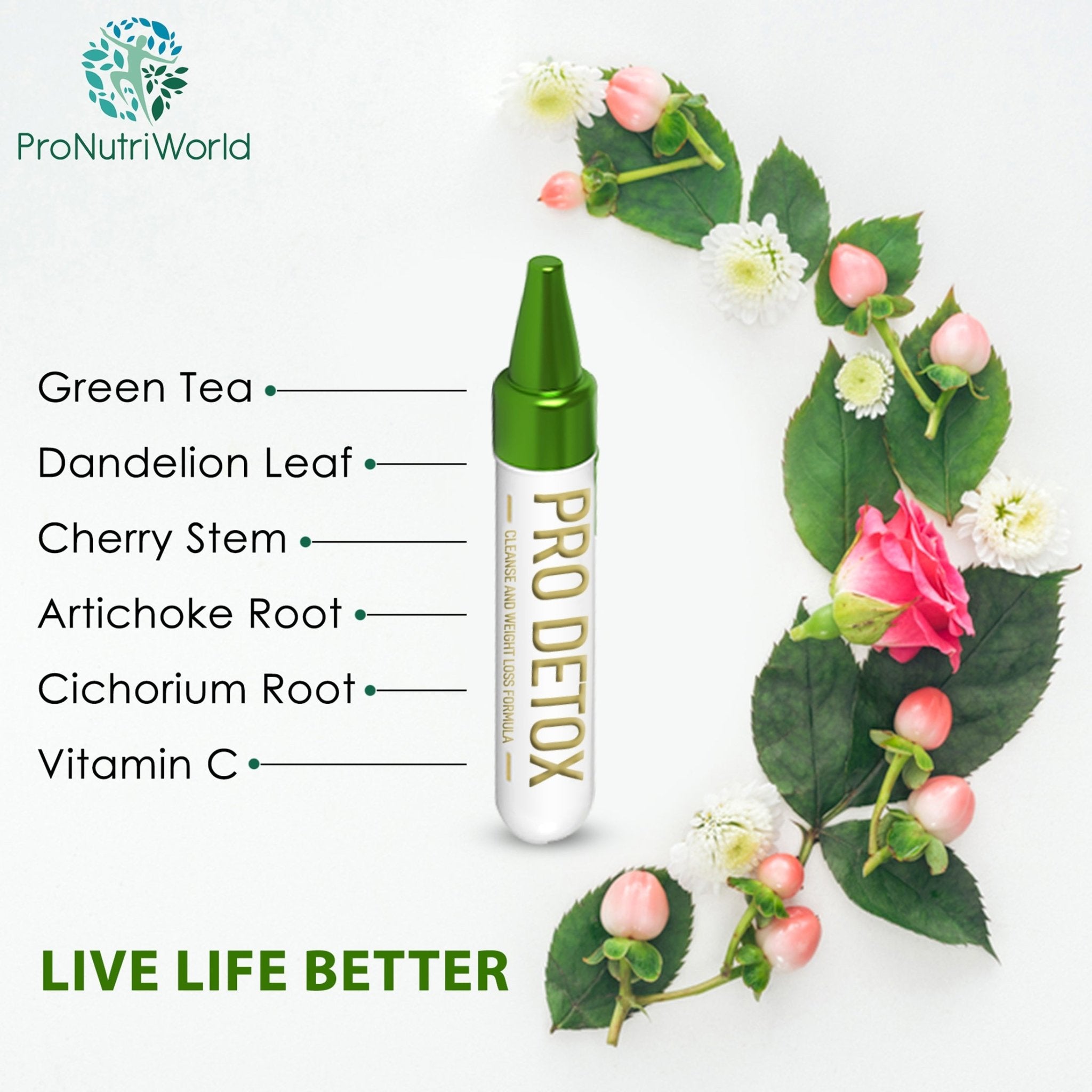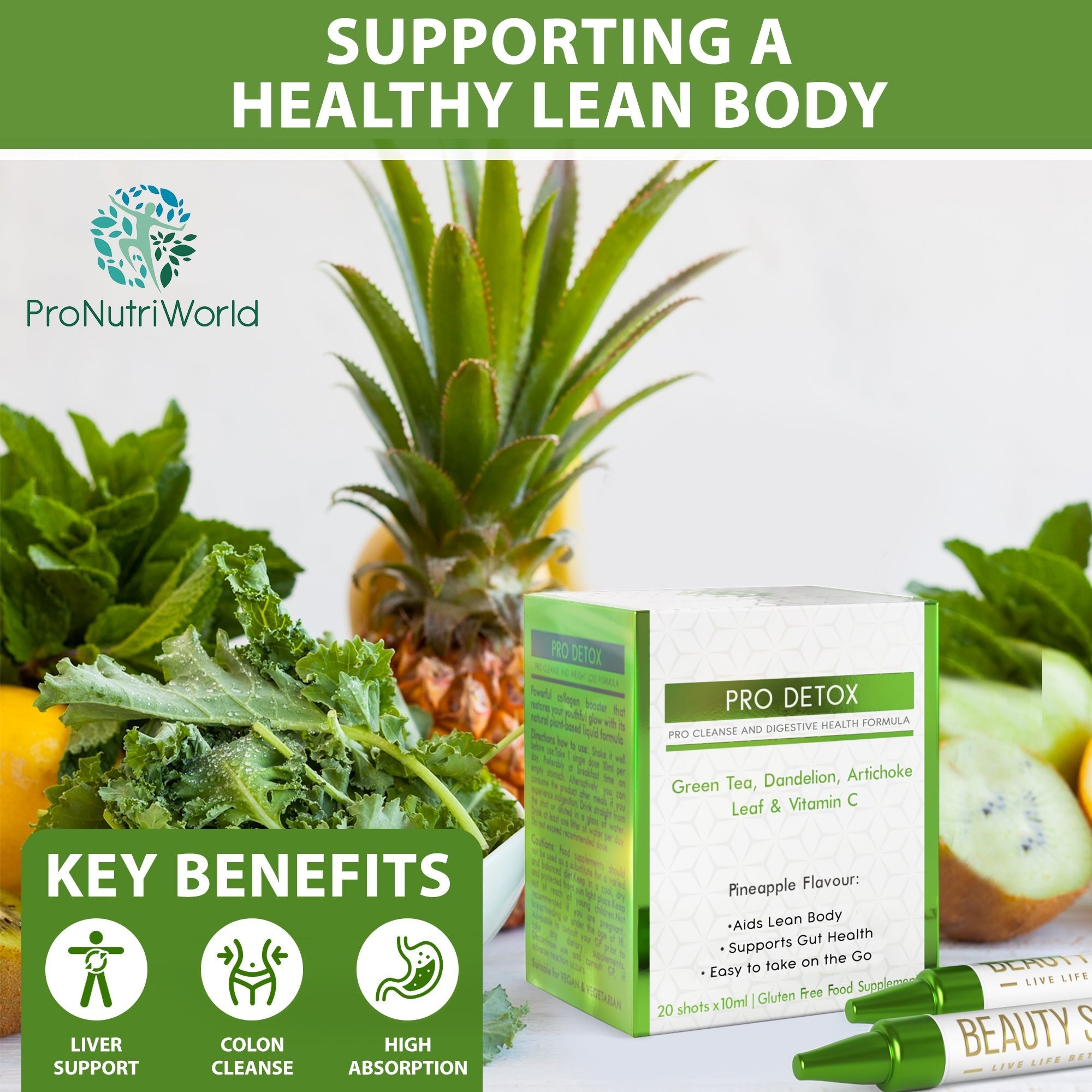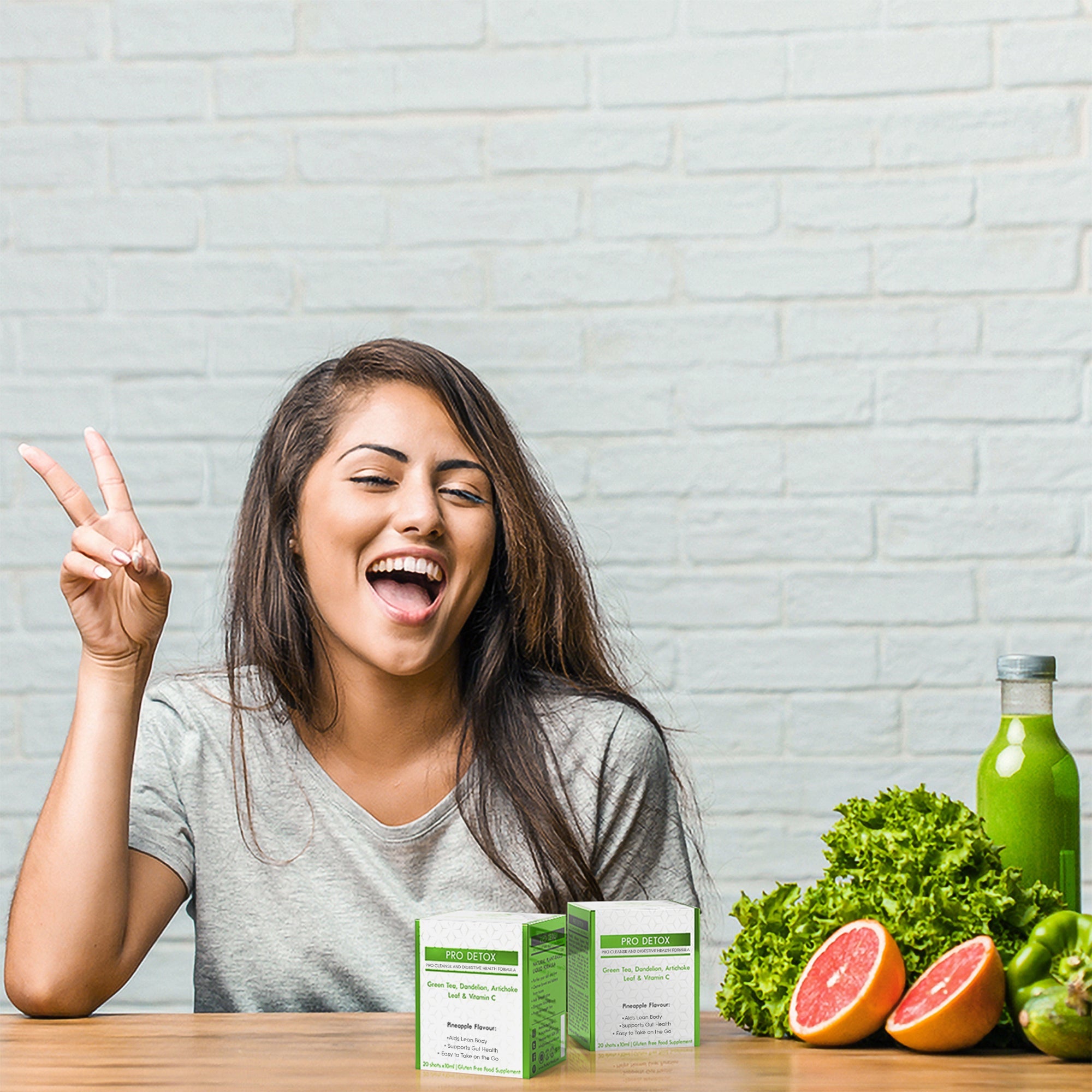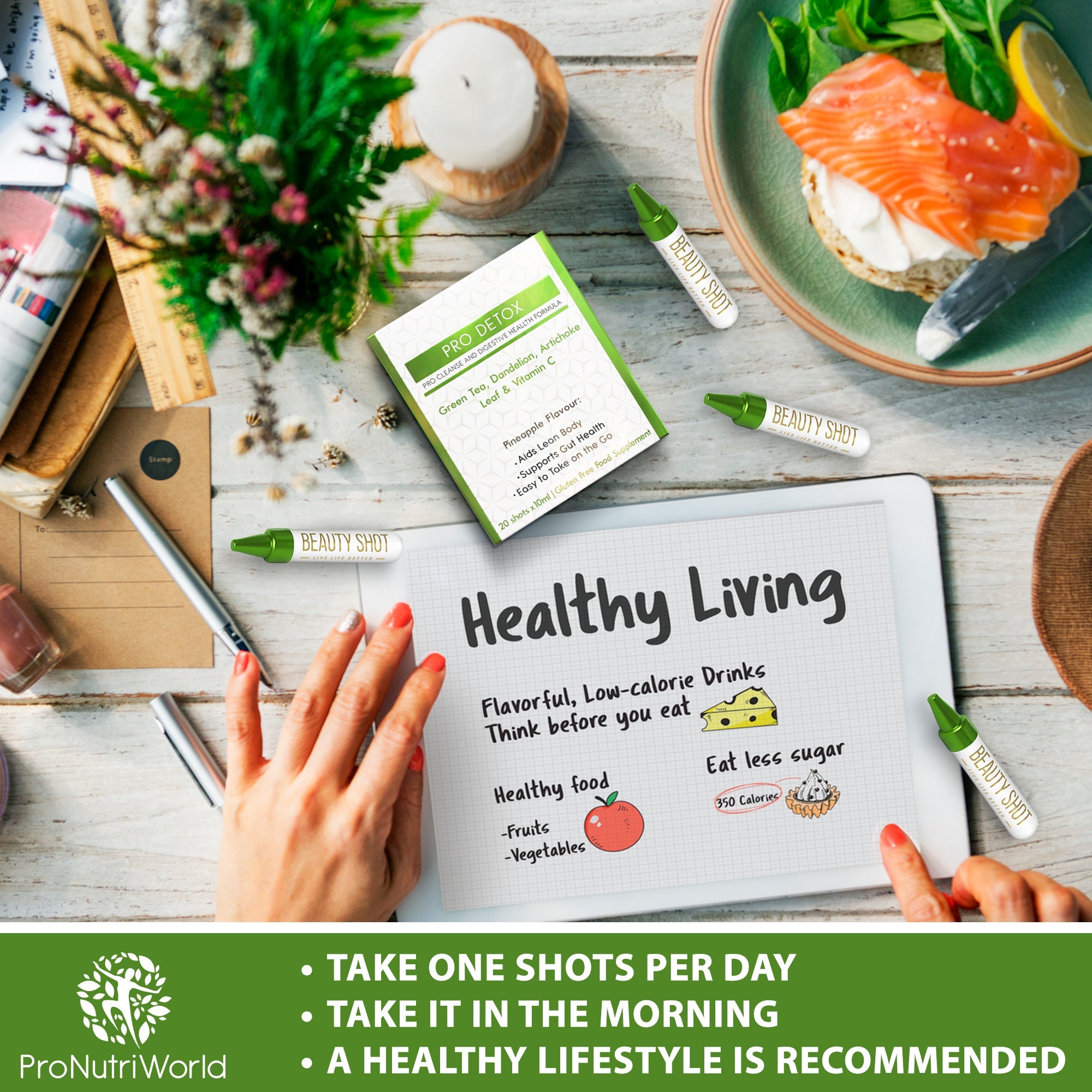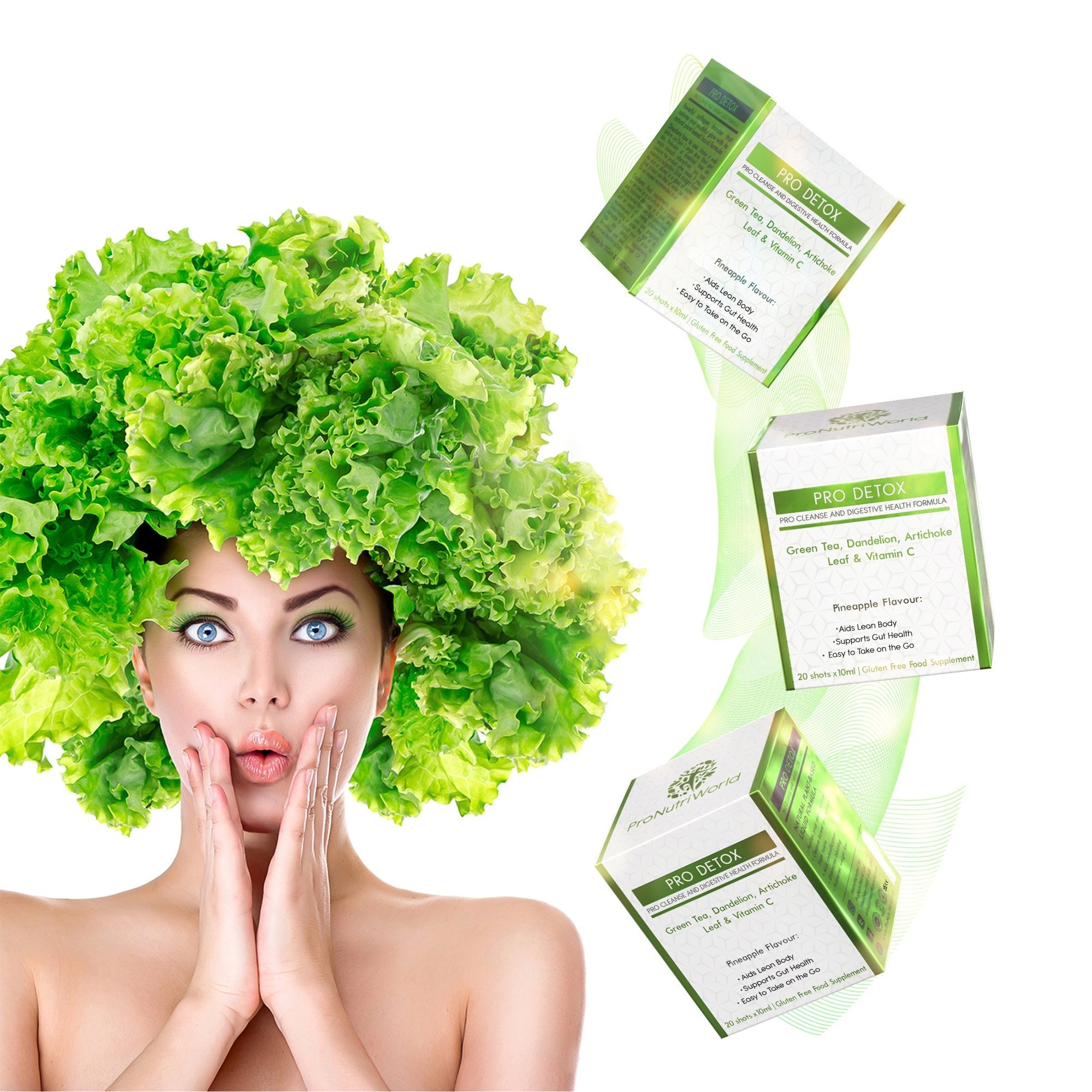 Our no-no's
Ingredients from animal source
Sugar
Gluten
Lactose
Preservatives
Artificial sweeteners
Artificial flavours
Artificial colours
Alcohol
CLEAN INGREDIENTS

Carefully selected in their
purest form and best quality.

100% SUSTAINIBILITY

We use no chemicals, Our beauty shots and boxes are fully recyclable.

FULL BODY SUPPORT

To slow down aging, help
digestion, boost energy and immunity.

LABORATORY BACKED

Based on the latest developments
in food science & nutrition.