Pro Turmeric Packs - Perfect for those looking to supplement digestion, immunity, joints and bones.
Regular price

Sale price

£28.00
Pro Turmeric Shots with Black Pepper & Vitamin D3
Great tasting turmeric that does wonders.
We've packed all of the goodness of the "golden spice" into a sweet, tasty tropical flavoured shots. Our 700mg shots combine the benefits of Turmeric, black pepper and vitamin D3 to create the ultimate supplement to give your body the boost it needs.
With 20 ready mixed shots per box, we provide a full 1-month supply, taking it 5 times a week! With benefits ranging from supporting mental alertness to reinforcing natural defences, our Pro Turmeric provide your body with what it needs to perform at maximum potential. Try the golden spice today!
Our no-no's
Key Ingredients

Turmeric
Turmeric has been used for thousands of years for its medicinal properties and its seemingly amazing range of benefits for the body! From circulation to mental clarity to silky smooth joints, turmeric has been used as an all-round superfood that has been known to support several essential functions within our bodies.

Black Pepper
Black Pepper has been extensively researched for its ability to allow curcumin (turmeric) to be more easily absorbed into the body. This is the perfect sidekick to the famous golden spice and allows your body to experience the full benefits of turmeric.

Vitamin D3
Vitamin D keeps your immune system strong and can help regulate insulin levels. It keeps your energy levels up and enhances your mood, too.

Full Ingredient List

Turmeric Root (Curcuma Longa) Extract (95% Curcuminoids), Honey, Dry Extract Black Pepper, Vitamin D3, Vitamin C, Stevia (Natural Sweetener), Orange Juice, Blueberry Juice, Potassium Bicarbonate, Citric Acid
How To Use

ADVICE: Do not exceed the recommended daily dose. Food supplements must not be used as a substitute for a varied and balanced diet and a healthy lifestyle. If you are pregnant, breastfeeding, taking any medications, or are under medical supervision, please consult a doctor or healthcare professional before use. Discontinue use and consult a doctor if any adverse reactions occur. Not intended for use by persons under the age of 18.

Storage: Store in a cool, dry place. Keep out of reach of children. For best before end see the base.

FAQs

What is Turmeric?

It is known as a superfood that not only strengthens the body but also aids in treating many conditions. Turmeric, also known as 'Curcuma Long' or the 'golden spice', is one of the most well known and most extensively researched Ayurvedic spices in the world. Many have used it as a dietary supplement, in teas, in their cooking and even as a topical solution!

Why ProNutriWorld Pro Turmeric Shots?

Due to its popularity throughout Asia, the west has started to extensively research this ingredient to see how it benefits the body. What was found is that the active ingredient curcumin is responsible for many benefits but has very low bioavailability. Research shows that black pepper greatly increases the absorption of curcumin into the body. This is why we have created an ultimate combination of turmeric, black pepper and vitamin D3 to provide max absorption to provide you with all of the benefits of turmeric. Not only are our 700mg turmeric shots good for overall well being, but they also taste great! With a natural tropical flavour, getting your daily dose of turmeric doesn't have to be a chore, but instead, a delicious treat.

Who is Pro Turmeric for?

Our Turmeric beauty shots have been created for all to enjoy! Whether you want a daily boost for your defences, want to care for your joints and bones or are looking to give yourself some mental clarity, our 10ml shots have got your back! After its long run of popularity in the east, we want to bring turmeric to the masses in a tasty and easy-to-take form that is familiar to us all.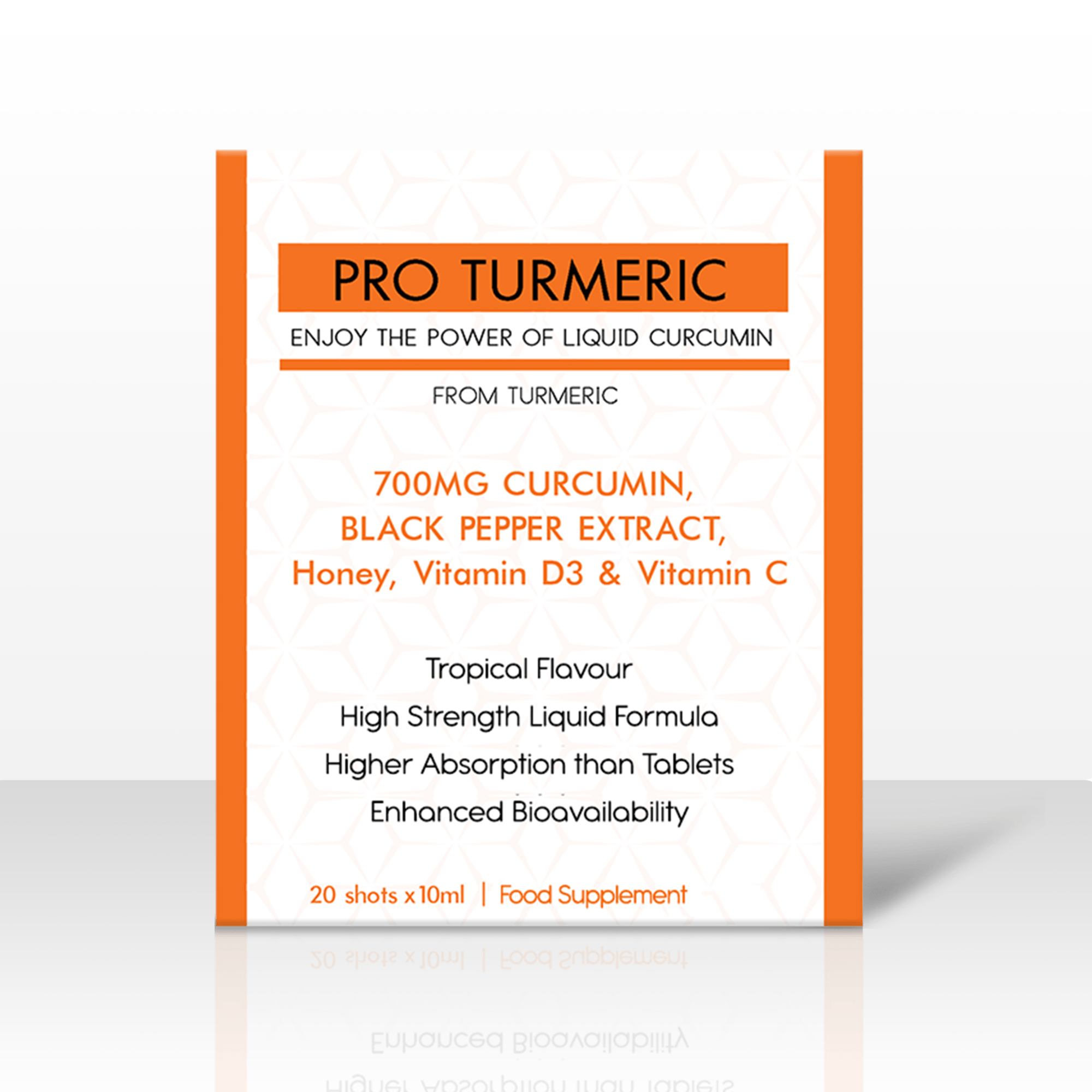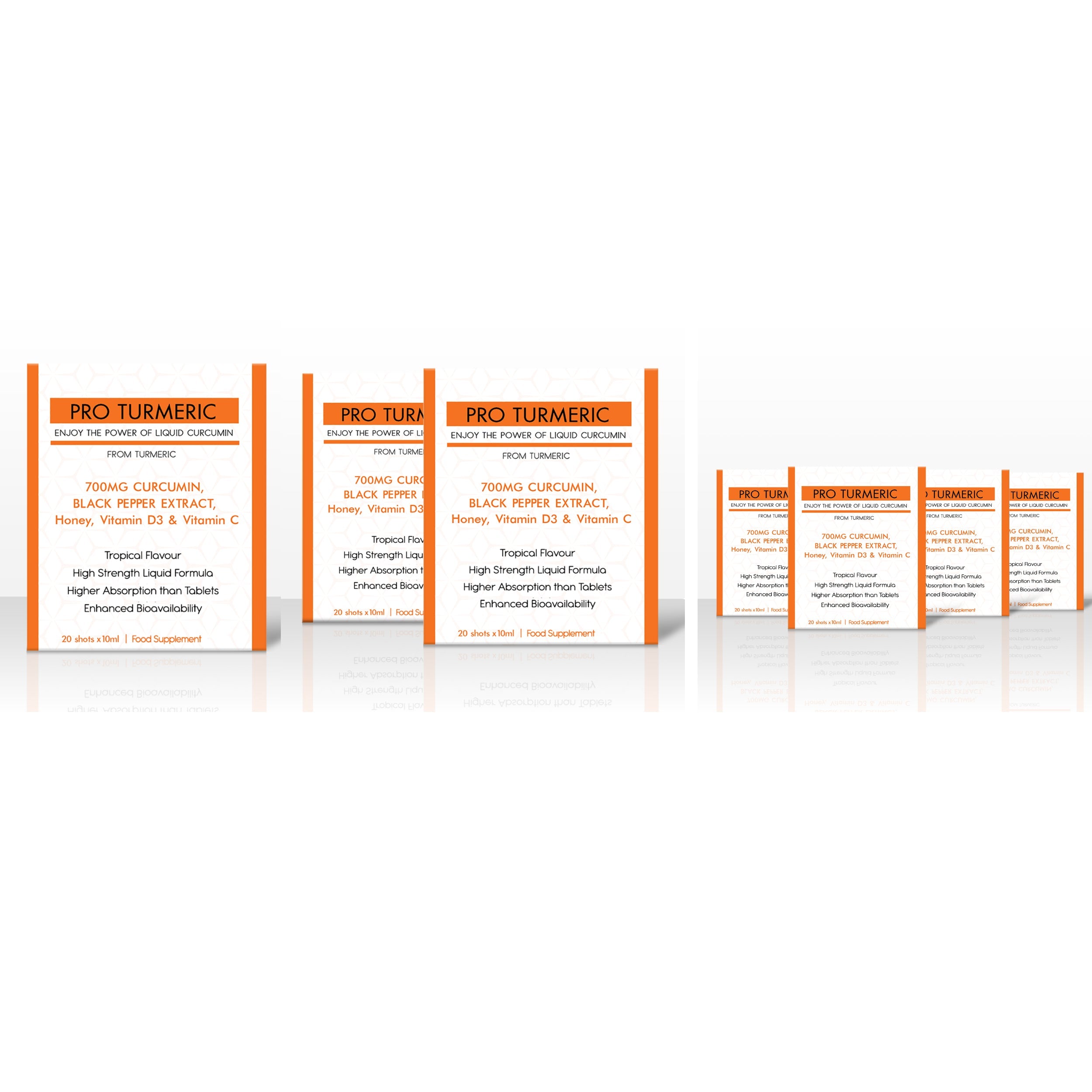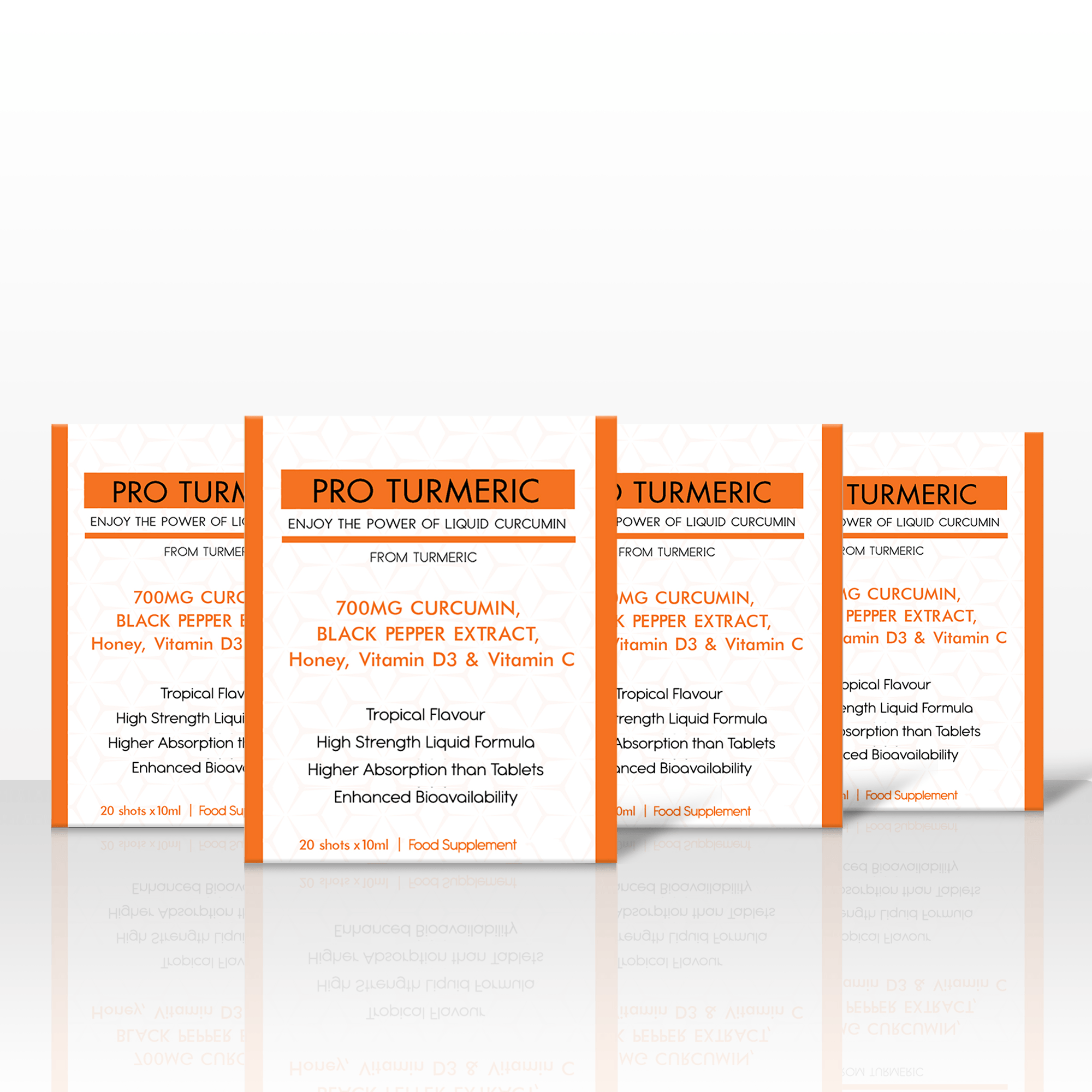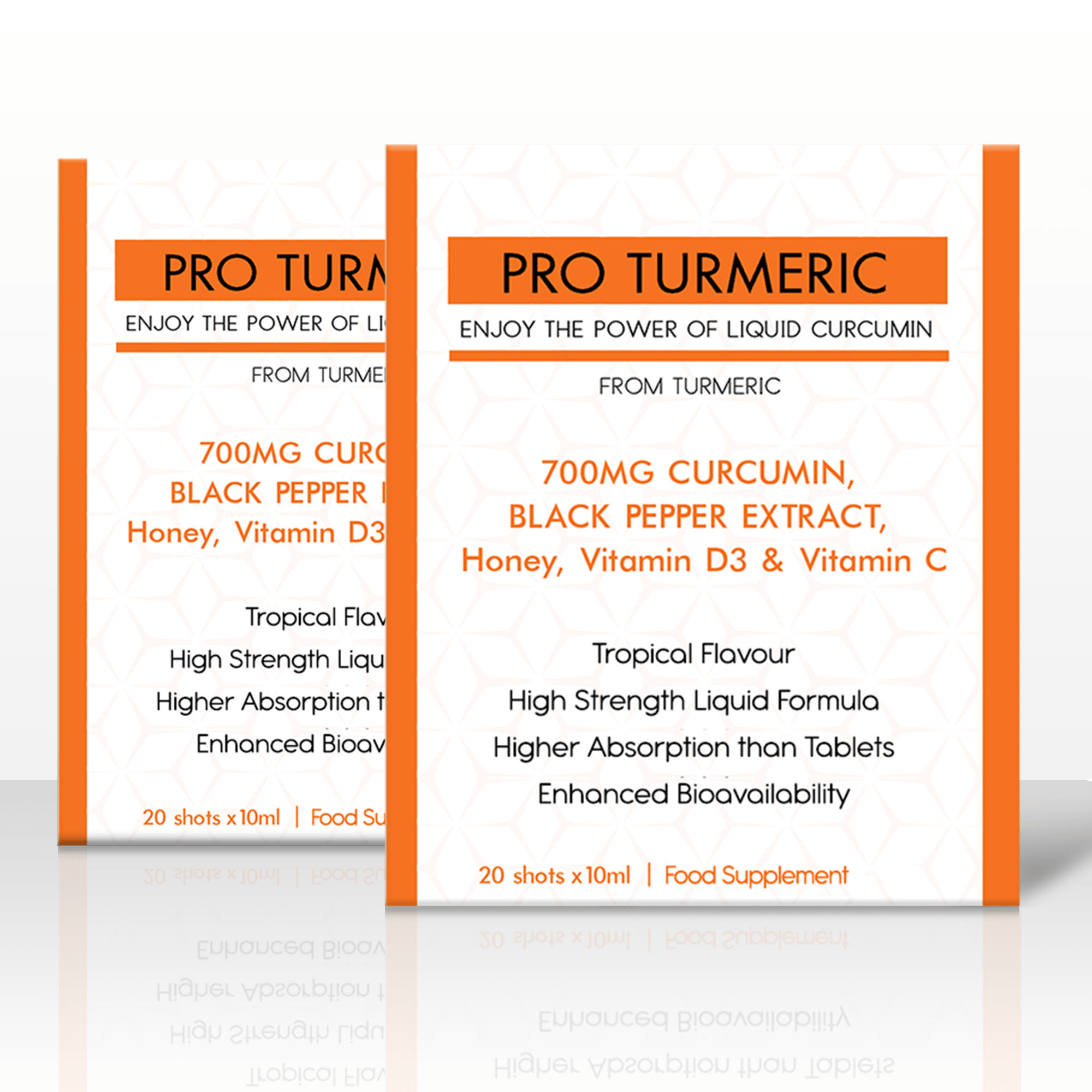 Our no-no's
Ingredients from animal source
Sugar
Gluten
Lactose
Preservatives
Artificial sweeteners
Artificial flavours
Artificial colours
Alcohol
CLEAN INGREDIENTS

Carefully selected in their
purest form and best quality.

100% SUSTAINIBILITY

We use no chemicals, Our beauty shots and boxes are fully recyclable.

FULL BODY SUPPORT

To slow down aging, help
digestion, boost energy and immunity.

LABORATORY BACKED

Based on the latest developments
in food science & nutrition.