Pro Collagen Packs- Anti-ageing marine collagen booster shots for your beauty ritual
Regular price

Sale price

£36.00
Marine Liquid Collagen Drink for Women and Men 20x10ml Shots
Collagen makes up 70% of our skin. Our hair, nails and even our joints are made up of lots of collagen, keeping us strong and our skin plump and hydrated. But over time our bodies make less; by age 50 we lose half.
Our Pro Collagen contains 20 shots of ready-mixed 5000mg hydrolysed marine collagen. Perfect for looking after yourself on the go, each 10ml serving is packed with protein, hyaluronic acid, vitamin C and essential amino acids.
77% saw visible results in 12 weeks.
Our no-no's
Key Benefits
Key Ingredients

Hydrolysed Marine Collagen Types 1

Pro Collagen is a purified hydrolysed marine collagen from the French brand Copalis®. It is extracted from the skins of selected wild fish such as the Alaska pollock, cod, plaice, haddock, and saithe. The manufacturing process of COLLAGEN HM™ marine collagen is carried out in an ecological and environmentally friendly way. It is derived from recycled natural resources, ensuring that natural marine resources are not over-exploited and that their sustainable productivity is maintained.

Coenzyme Q10 - This natural wonder agent aids exercise performance but depletes with age. These shots will help you boost your body naturally particularly, skin, muscles, heart and brain.

Hyaluronic Acid - A natural molecule found in our skin and joints, Hyaluronic Acid is considered ideal for helping lubricate and moisturise both joints and skin. Plus, it is used as a natural method for helping with the appearance and effects of ageing.

Full Ingredient List

Hydrolysed Marine Collagen Types 1, Coenzyme Q10, Hyaluronic Acid, Vitamin C, Vitamin B6, Sodium Selenite, Glycerine, Flavour (Organic Red Grape Concentrated Juice), Sucralose, Water.
How To Use

Take a shot in your hand and shake well before use. Push the lid outwards away from your body with the thumb so that it breaks off from the top of the bottle. Recommended daily dose is 10ml. Take one shot in the morning or in the evening before bed to facilitate cell regeneration and ensure the shine, softness and elasticity of the skin. This product is not recommended for pregnant or breast-feeding women, children under the age of 18 or people with allergies to fish.

Storage: Store in a cool, dry place. Keep out of reach of children. For best before end see the base.

FAQs

What is Pro Collagen?

PRO COLLAGEN is high strength collagen supplement containing 20 beauty shots a box of Type 1 marine collagen Copalis in every shot, with added Hyaluronic acid, B6 and vitamin C.

A unique formulation of bioactive collagen peptides with higher absorption than powder, pills or capsules to increase skin elasticity, minimize the depth of wrinkles, reduce the appearance of cellulite, crow's feet and eye bags.

What is hydrolysed collagen?

It's a form of collagen which is obtained when collagen fibres are broken down into small collagen chains also known as "collagen peptides". This process is known as "hydrolysis".

How to use Pro Collagen?

For Pro Collagen to be effective, it needs to become part of your skincare routine. For best results we highly recommend you drink 1 x 10ml shot at least 5 times a week before bed time. Your body repairs and regenerates while you sleep. One of the absolute BEST times to take collagen.

Can I take Pro Collagen with other supplements & medications?

There are no reported problems with Pro Collagen when used with other supplements & medications, but if you have any concerns, it is always best to consult your doctor before taking a new supplement.

How many calories are in Pro Collagen?

There are roughly 24 Kcal per 10ml serving of Pro Collagen.

Is Pro Collagen suitable for vegans?

Pro Collagen contains fish protein, so it is NOT suitable for vegans or vegetarians.

Can I take Pro Collagen if I'm allergic to fish?

Pro Collagen is sourced from fish and is not recommended for those with allergies to fish. 

How long does it take to see results?

Clinical studies of our key ingredient record results after three weeks, with the majority of volunteers involved in human clinical studies reporting visible results within the 12 week study period. One of the first things you may notice is an improvement in skin hydration and radiance. Your nails may also feel stronger and healthier.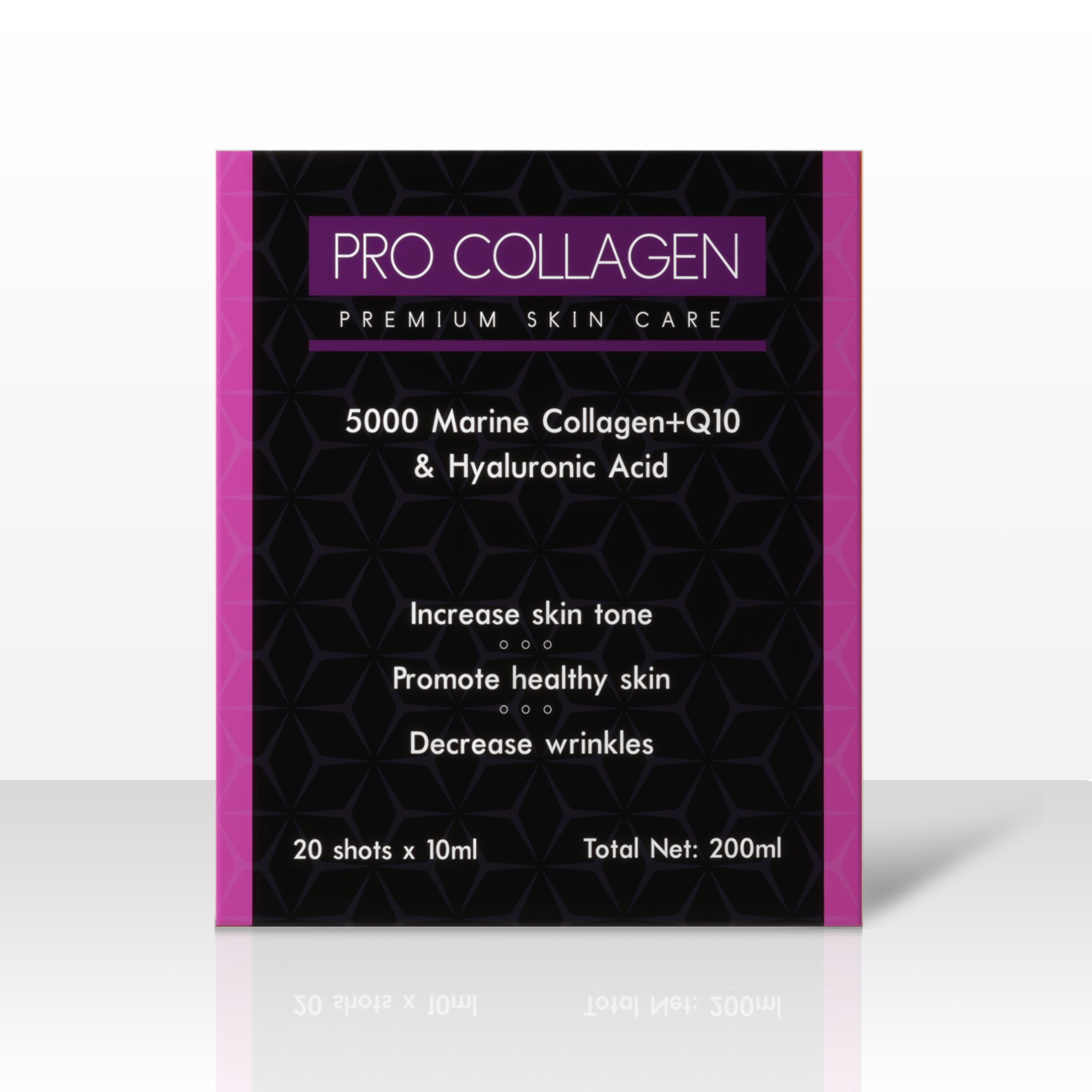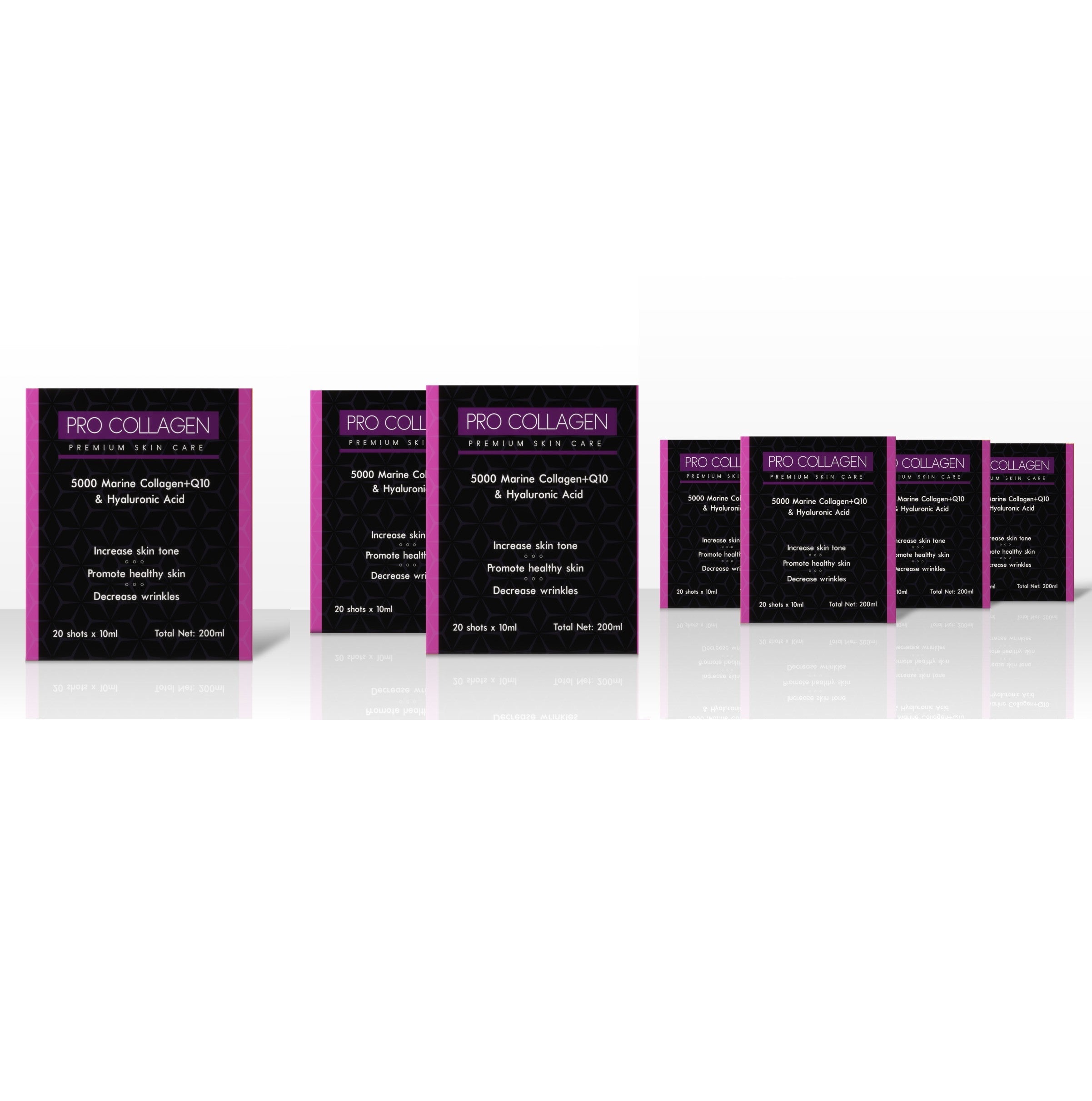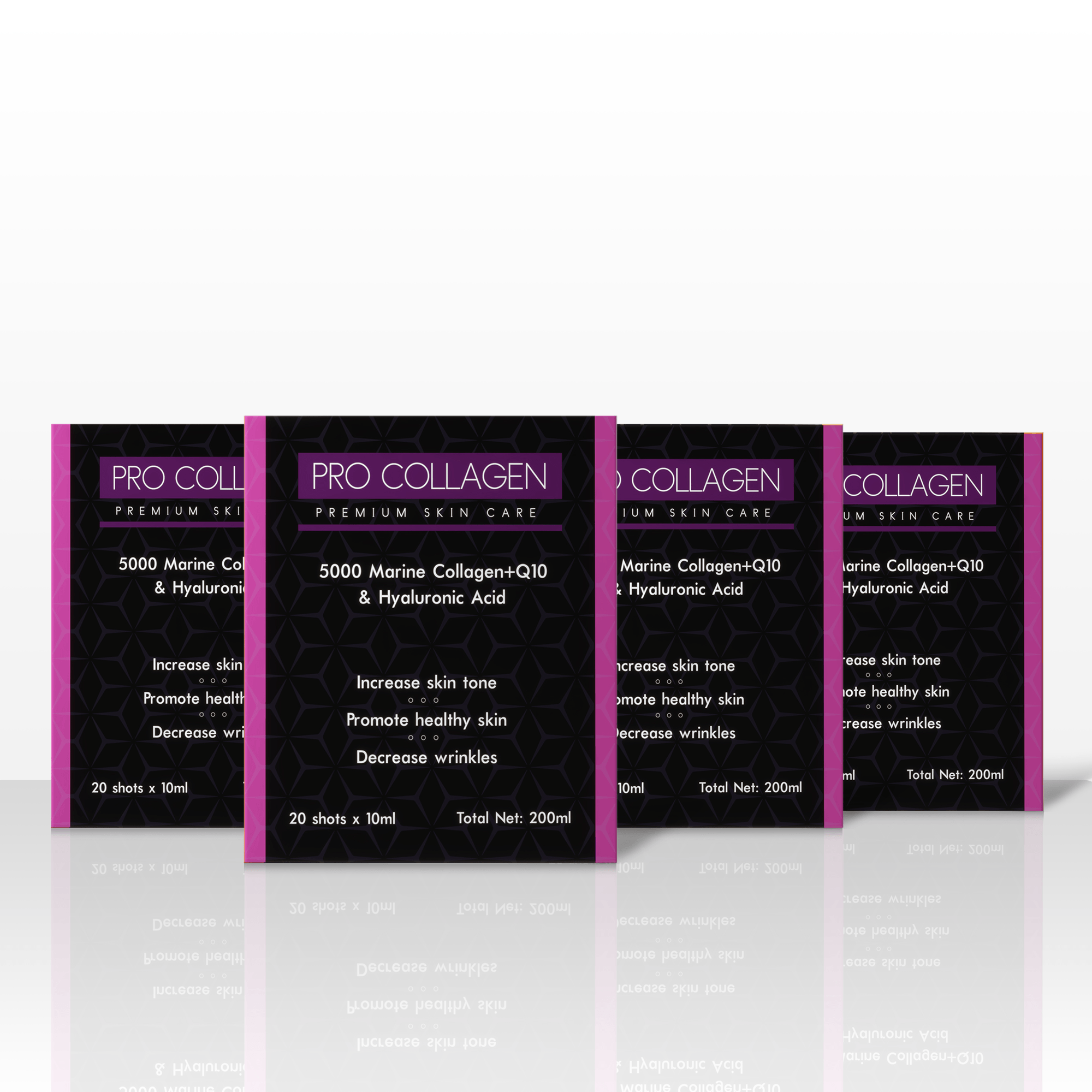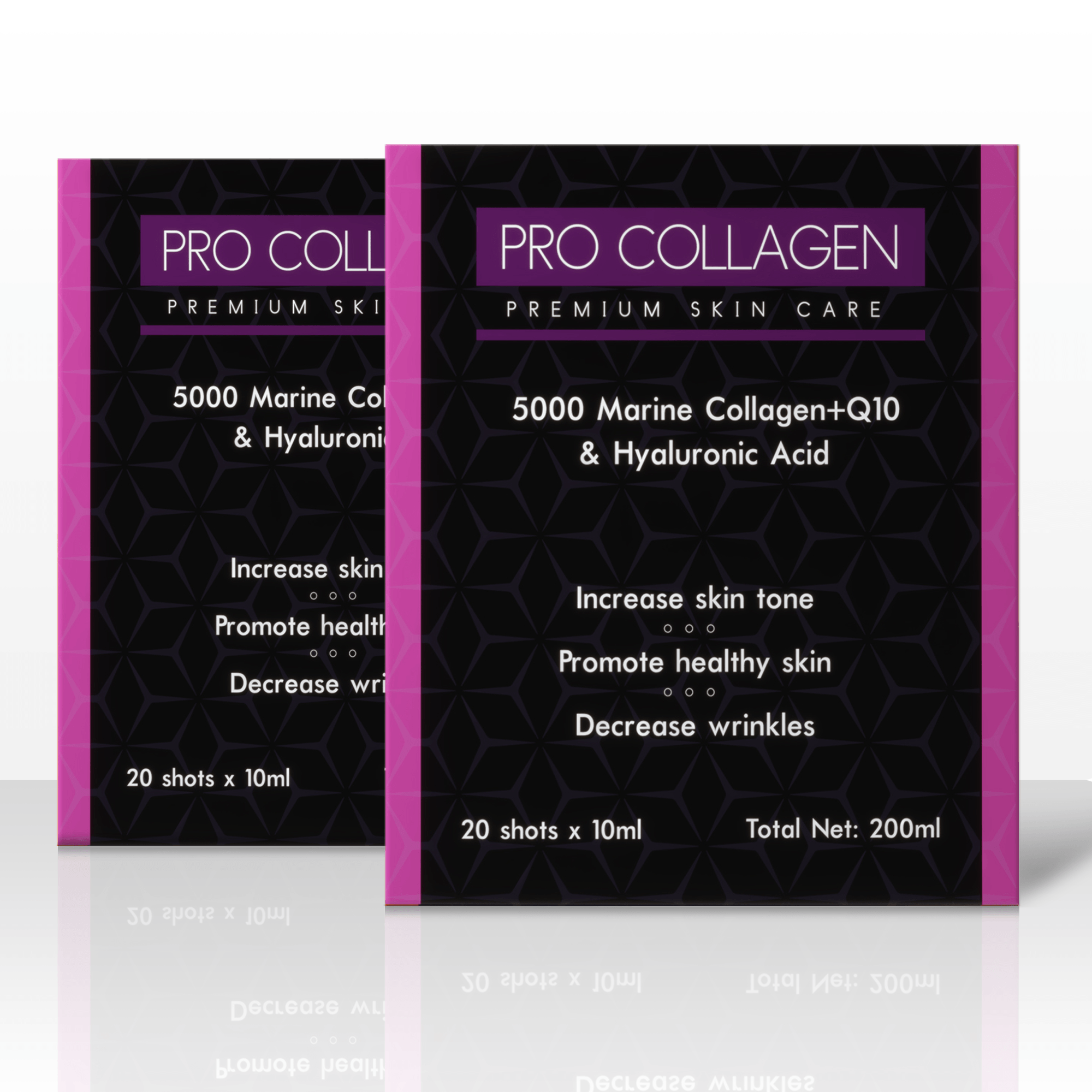 Our no-no's
Ingredients from animal source
Sugar
Gluten
Lactose
Preservatives
Artificial sweeteners
Artificial flavours
Artificial colours
Alcohol
CLEAN INGREDIENTS

Carefully selected in their
purest form and best quality.

100% SUSTAINIBILITY

We use no chemicals, Our beauty shots and boxes are fully recyclable.

FULL BODY SUPPORT

To slow down aging, help
digestion, boost energy and immunity.

LABORATORY BACKED

Based on the latest developments
in food science & nutrition.