Pro Energy Packs - Refresh, Recharge, Reboot
Regular price

Sale price

£26.00
Pro Energy Beauty Shots for Fatigue, Tiredness and Focus 20 x10ml
Feel your very best.

Liquid ginseng, royal jelly mix - An instant supply of Taurine, Royal Jelly, Ginseng, Bee Pollen and Vitamin B12 and C, that comes in a tasty red grape flavour.
Every day, your body requires tons of energy so you can be on top of your game. Pro Energy | Rise and Shine may help bring back the vitality you need to perform any physical or mental activity in your peak state. Take it first thing in the morning to regulate blood sugar level, strengthen immune system, fight fatigue and enhance brain function.
Our no-no's
Benefits
Key Ingredients

Royal Jelly - Is a highly nutritious substance, which supports a healthy immune system, boost memory, inflammation, skin health and is a potent source of antioxidants and probiotics.

Ginseng root - Boosts energy and reduces fatigue. Ginseng has been traditionally used to improve sexual function in men and women. It may have a beneficial effect on erectile dysfunction.

Taurine – Important for the health of the eyes and may help prevent age-related macular degeneration and other eye diseases. May help improve exercise performance by reducing muscle damage and fatigue, and by increasing endurance.

Rhodiola rosea - Has been shown to help reduce stress and anxiety levels by reducing cortisol levels in the body.
Improving mood and depression: Some studies have shown that Rhodiola rosea can help improve mood and reduce symptoms of feeling low.

Spirulina - Rich source of protein, vitamins, minerals, and antioxidants, making it a great addition to a healthy diet. It helps improve endurance and muscle strength, making it a popular supplement among athletes and fitness enthusiasts.

Full Ingredient List

Purified water, ginseng extract (panax ginseng C.A. Meyer), siberian ginseng (eleuthero, root), american ginseng extract, ascorbic acid, royal jelly, sucrose,guarana (paullina cupana), bee pollen, acidity regulator (citric acid), red grape concentrated juice, preservative (potassium sorbate, sodium benzoate), vitamin c, vitamin b complex, taurine, acerola powder juice, rhodiola rosea, magnesium, spirulina platensis.
How To Use

The choice is yours!
Take 1 shot daily, during breakfast or before exercising. Shake it well before use. Drink straight from the shot, mix with water, porridge, yoghurt, smoothie and more. Drink at least one litter of water per day.

ADVICE: Do not exceed the recommended daily dose. Food supplements must not be used as a substitute for a varied and balanced diet and a healthy lifestyle. If you are pregnant, breastfeeding, taking any medications, or are under medical supervision, please consult a doctor or healthcare professional before use. Discontinue use and consult a doctor if any adverse reactions occur. Not intended for use by persons under the age of 18.

Storage: Store in a cool, dry place. Keep out of reach of children. For best before end see the base.

FAQs

What is Pro Energy?

Pro Energy contains 970mg ginseng, made from the root and the offshoots called root hairs. Ginseng is believed to help improve concentration, productivity and supports energy and vitality.

Is there excessive caffeine in Pro Energy?

Our supplement is specially formulated with Guarana, where you can enjoy caffeine in a potent, natural form, without unnecessary, additives, Taurine and Spirulina Complex. All three of these ingredients give you clean and lasting energy so no crashes or jitters. And they help you have that laser focus and mental clarity you need for work or play.

What is in Pro Energy?

Liquid natural energy drink containing 20 ready mixed shots of Royal Jelly, Ginseng, Bee Pollen, Taurine and Vitamin C, that comes in a tasty red grape flavour.

What is Pro Energy for?

It is liquid tonic, easily taken and quickly boost energy. Ginseng is well-known natural tonic for energy boost, Royal Jelly is Yin tonic, helps body calm and relax, sleeping well. They are both together helps energy deficiency caused Stamina & Memory, fatigue, insomnia, anxiety and boost immunity. Last but not least increase libido.

How much sugar is in Pro Energy?

Pro Energy shots are a smart choice when it comes to managing your sugar intake. Unlike many other energy products, Pro Energy shots contain no added sugar. The delightful sweetness in our shots comes from the natural goodness of concentrated red grape juice and a plant-based sweetener called stevia. Enjoy the energizing benefits of Pro Energy without worrying about unnecessary sugar. It's the perfect way to stay refreshed, focused, and guilt-free!


Are energy drinks and energy shots the same?

Energy drinks and Pro Energy shots serve the purpose of providing an energy boost, but they have some differences. Energy drinks come in larger cans, containing a mix of stimulants and often sugar. Pro Energy shots are smaller, delivering a concentrated dose of energy-boosting ingredients without added sugar. It's important to read labels, understand ingredients, and consume in moderation based on personal preferences and health considerations.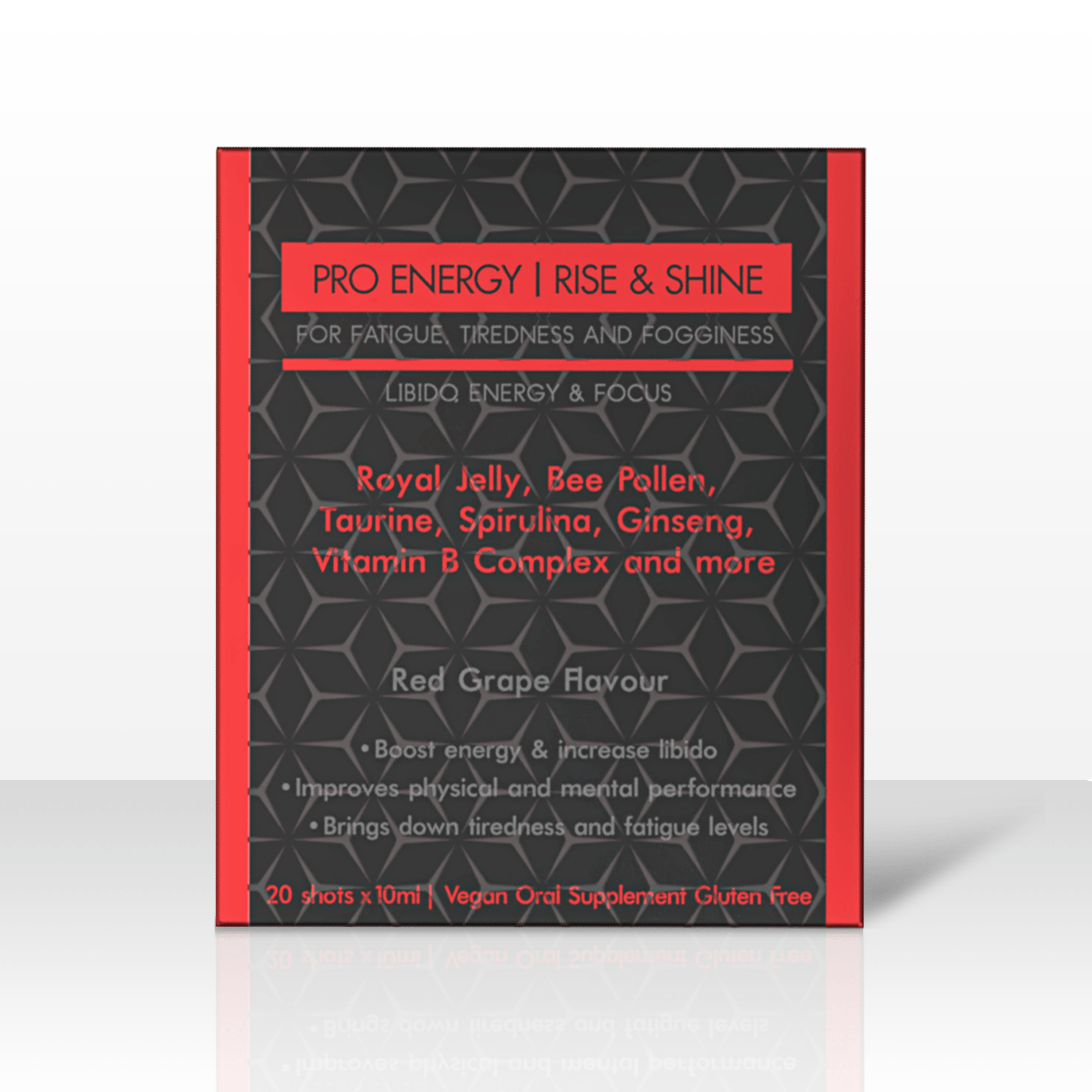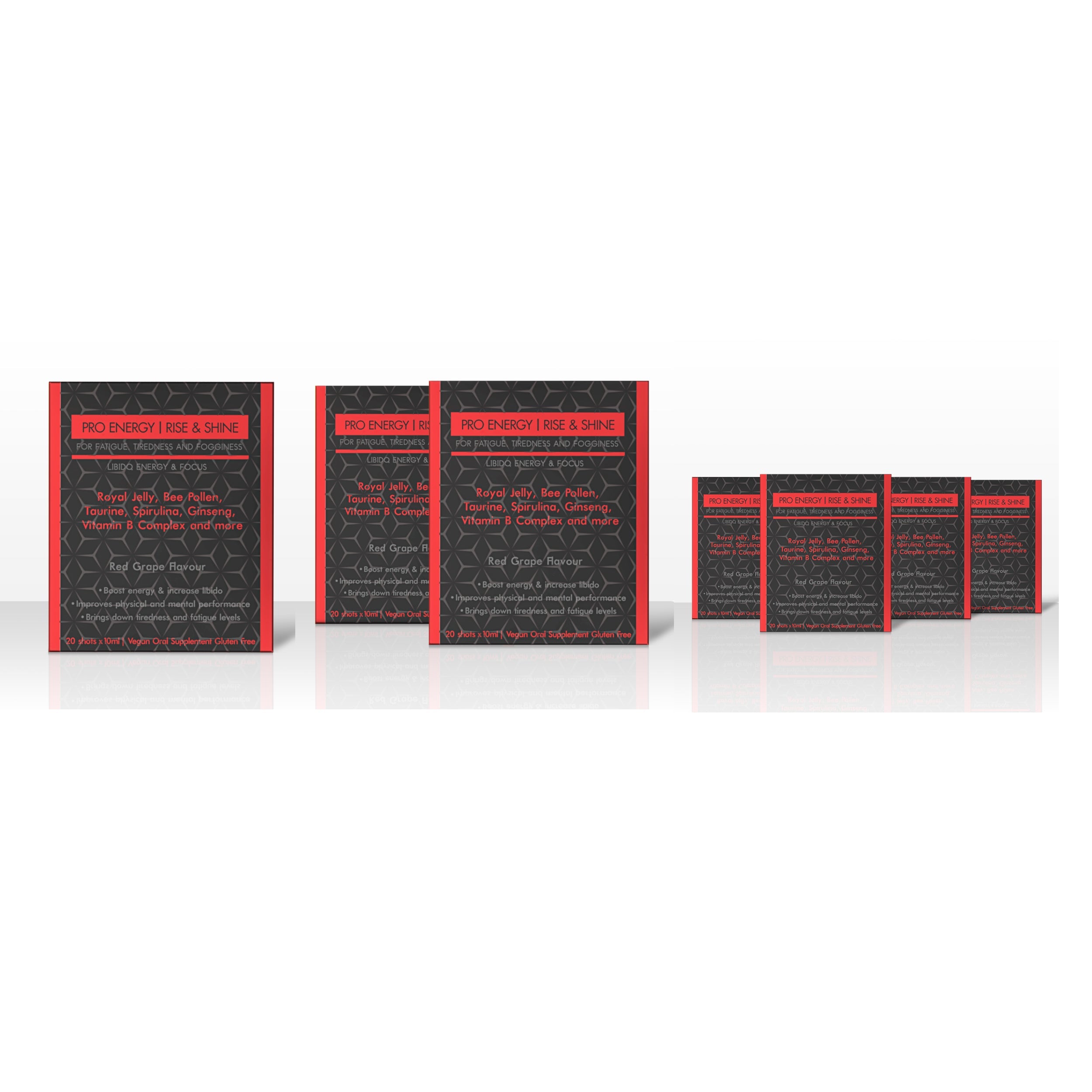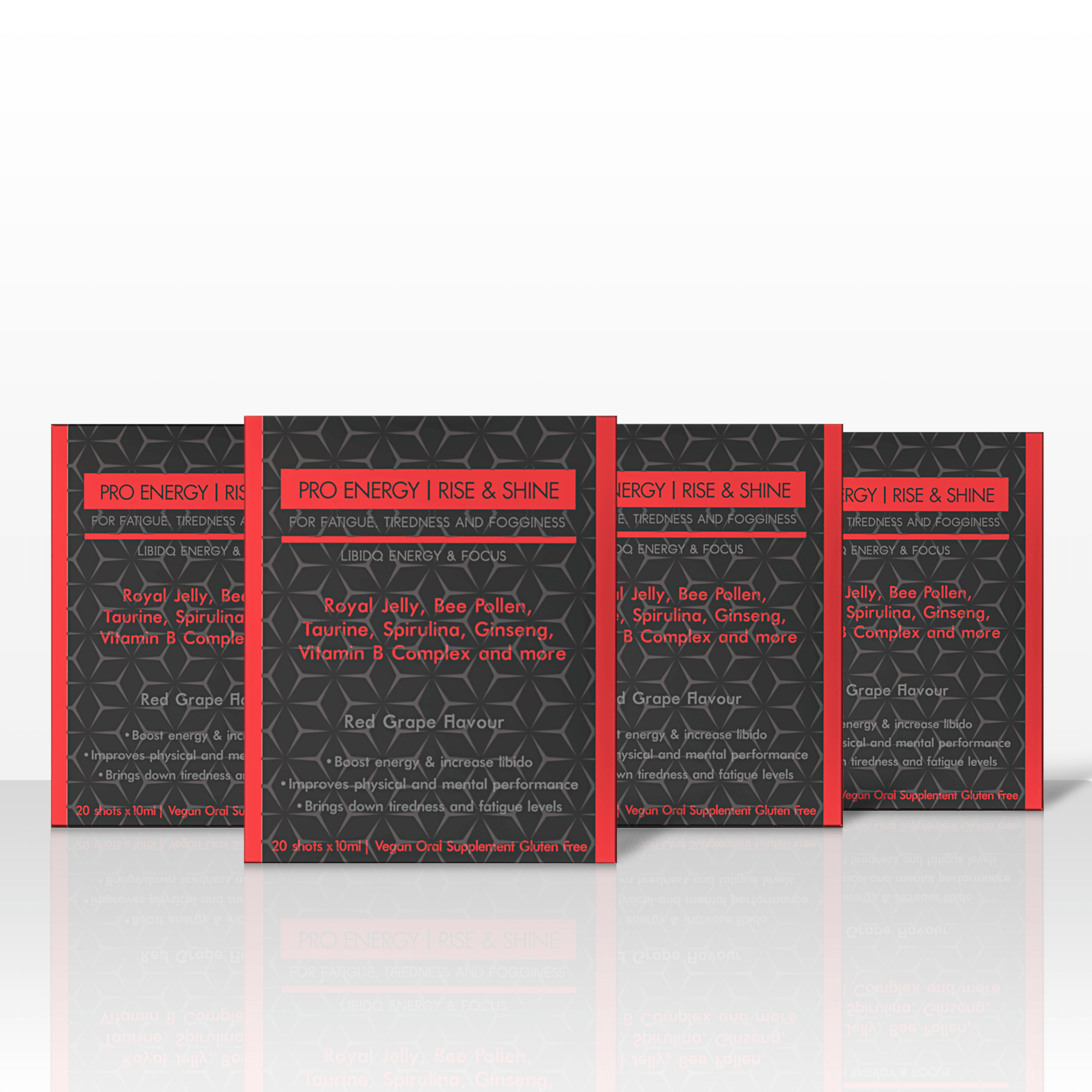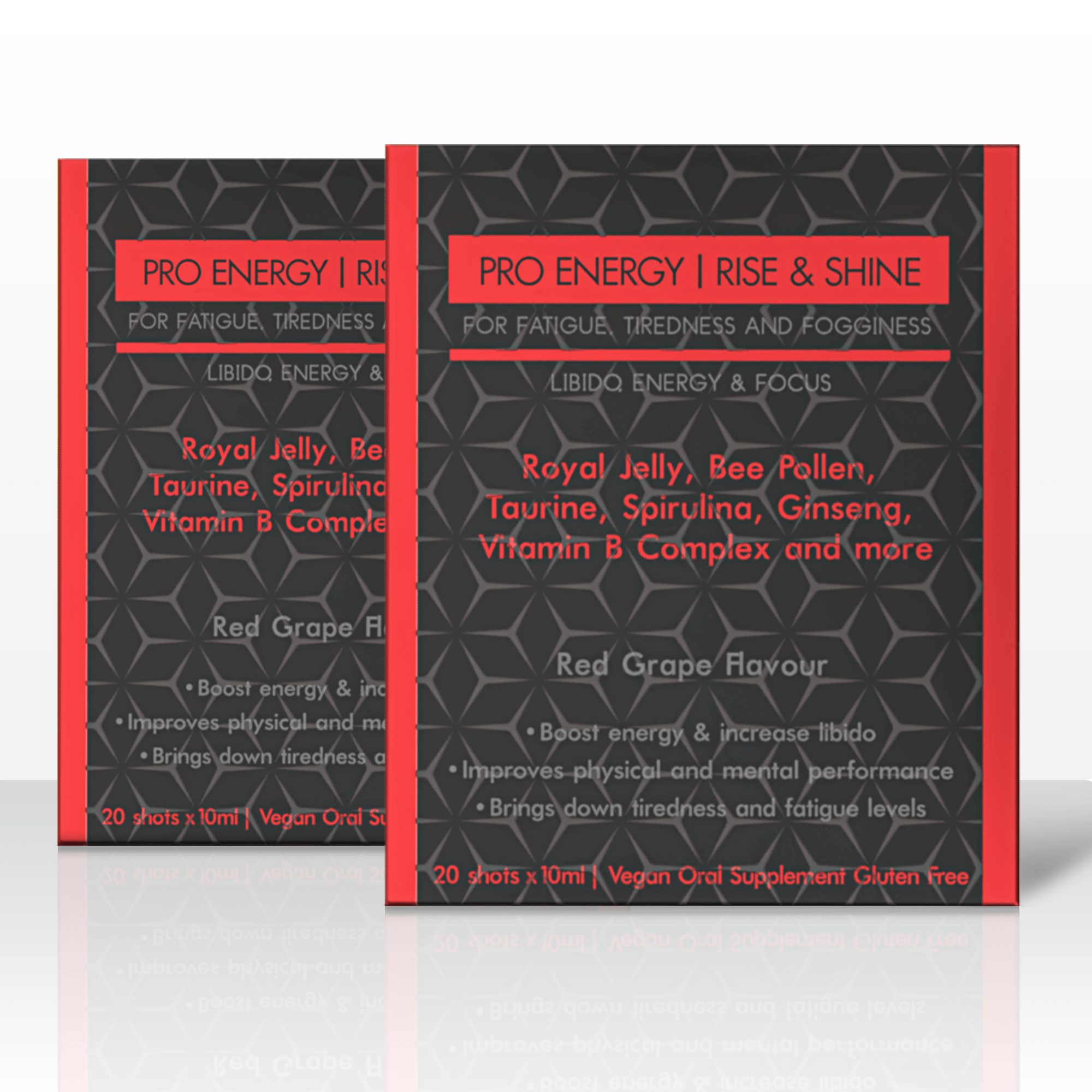 Our no-no's
Ingredients from animal source
Sugar
Gluten
Lactose
Preservatives
Artificial sweeteners
Artificial flavours
Artificial colours
Alcohol
CLEAN INGREDIENTS

Carefully selected in their
purest form and best quality.

100% SUSTAINIBILITY

We use no chemicals, Our beauty shots and boxes are fully recyclable.

FULL BODY SUPPORT

To slow down aging, help
digestion, boost energy and immunity.

LABORATORY BACKED

Based on the latest developments
in food science & nutrition.